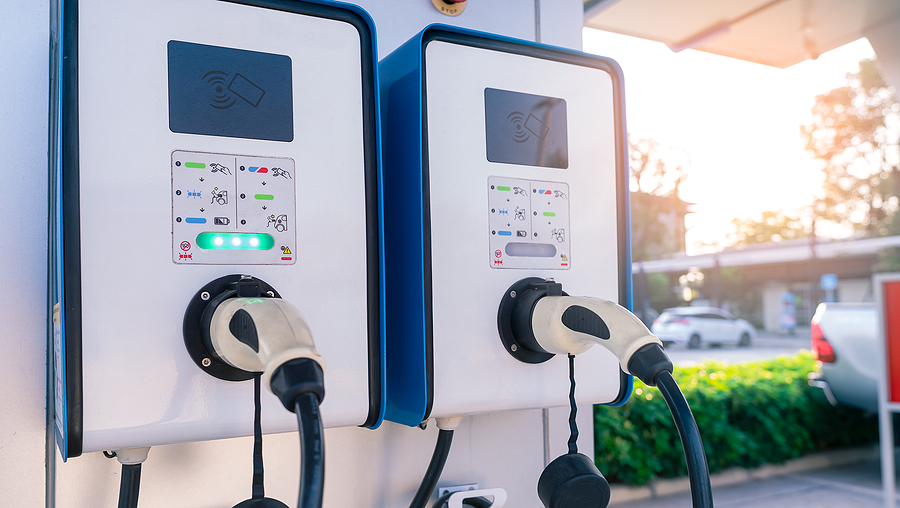 2021 hasn't been kind to electric vehicle (EV) stocks so far. 
It's kind of surprising because a lot of traders thought the Biden presidency would bring an extra boost to the whole sector. Instead, many of the leaders in the sector have plummeted after reaching all-time highs at the beginning of the year.
We shouldn't forget that this was one of the hottest sectors in all of 2020, though. I have a feeling that there's more to come from this niche and what's great is we've been talking a lot about these types of stocks in our Stocks, Trading, and Crypto group that meets every trading day.
With more movement happening in the sector I thought it would be a good idea to go over some top stocks to watch out for so that we can be prepared for any upcoming sector moves.
What Are EV Stocks?
Before getting to the list, we should define what EV stocks are.
Not all EV stocks are of companies that make electric cars … It includes stocks of companies from the whole electric vehicle ecosystem. This includes a whole range of things but an example would be a company that makes EV batteries or charging stations. It even includes companies that mine for the materials that go into EV products.
Stocks of any company that influences the EV market can be considered an EV stock.
There … Now that we know what EV stocks are, are you ready to see what made the list?
Then, let's go! Here are 5 electric vehicle stocks to watch!
Tesla, Inc. (NASDAQ: TSLA)
We couldn't start an EV list without the king of the hill. TSLA is definitely the leader of the sector and influences the rest of the sector to move. 
Also, it's run by my fave billionaire, Elon Musk. Despite his crypto tweets, I think he's pretty cool.
TSLA started the whole EV sector's run when it did a stock split back in August 2020. The lower stock price attracted a whole lot of retail traders and influenced them to buy other EV plays.
I think that when the sector starts moving again it will be partly because TSLA is moving again. This is also a stock that I think I'm gonna wish I would've bought more 20 years from now.
Tesla, Inc. (NASDAQ: TSLA) 1-year chart (Source: TradingView)
General Motors (NYSE: GM)
GE has been on the rise since the beginning of the pandemic moving from about $14 to $64. Do you believe it was almost a penny stock?
GE has been around a while and now they're getting into the EV game … in a BIG way. They recently announced that they will spend $35 billion on electric and autonomous cars.
The company unveiled the first all-electric super truck with its 2022 GMC Hummer EV. Exciting, huh?
With the aggressive investment and its highly integrated plans, it'll be interesting to see what the company can do … and how it will affect its stock.
General Motors (NYSE: GM) 1-year chart (Source: TradingView)
Ford Motor Co. (NYSE: F)
F is another stock that has been on the rise since the pandemic. 
It was under $4 but is about $15 as of this writing.
The company has its own ambitious plans and it wants to lead the electrification revolution for commercial and retail customers. To do this, it's investing more than $30 billion by 2025.
A few weeks ago, it unveiled its all-electric 2022 Ford F-150 Lightning truck which excited its customer base. It already has 100,000 reservations for the new model.
The company isn't wasting time because it also acquired Electriphi, a California-based provider of charging management and fleet monitoring software for electric vehicles.
Ford is another stock to watch when the sector starts moving again.
Ford Motor Co. (NYSE: F) 1-year chart (Source: TradingView)
Nio Inc. (NYSE: NIO)
Nio makes premium smart electric vehicles and the company will be a HUGE player in the Chinese market.
At the beginning of 2020, NIO was worth less than $2 and considered a dead stock. When the EV market heated up it skyrocketed to about $68.
Now it's hovering in the high $40s but when the sector gets hot, this is definitely one we'll wanna watch!
Nio Inc. (NYSE: NIO) 1-year chart (Source: TradingView)
Workhorse Group Inc. (NASDAQ: WKHS)
Workhorse Group was in the news a lot when it was rumored to have a potential deal with the U.S. Postal Service to provide electric vehicles. Well, that eventually fell through and the contract went to Oshkosh Corp. (NYSE: OSK).
Well, there's been a turn of events. 50 U.S. House Democrats are now demanding $8 billion to purchase more Postal Service EV vehicles. Guess who will be in the running to provide those?  Yup, WKHS.
Workhorse Group Inc. (NASDAQ: WKHS)
Conclusion
Well, there you have it! 5 electric vehicle stocks that we should be watching.
This isn't an exhaustive list and there'll be more players that enter the arena when the sector gets hot again … But these will definitely be in the mix.
Remember, this is a watchlist and not a recommendation for trading. Make sure to study your patterns and only enter a trade when you have a plan in place.
By the way, one of the best ways to get great at trading is to surround yourself with like-minded people who want to learn the same things. If you wanna learn about the stock market so that you can build a new income stream, come join our Stocks, Trading, and Crypto group. We meet every trading day at the opening bell and it's a blast. We'd love to have you join us!
Keep watching this sector.
What other EV plays are you watching? Comment below, I'd love to hear.