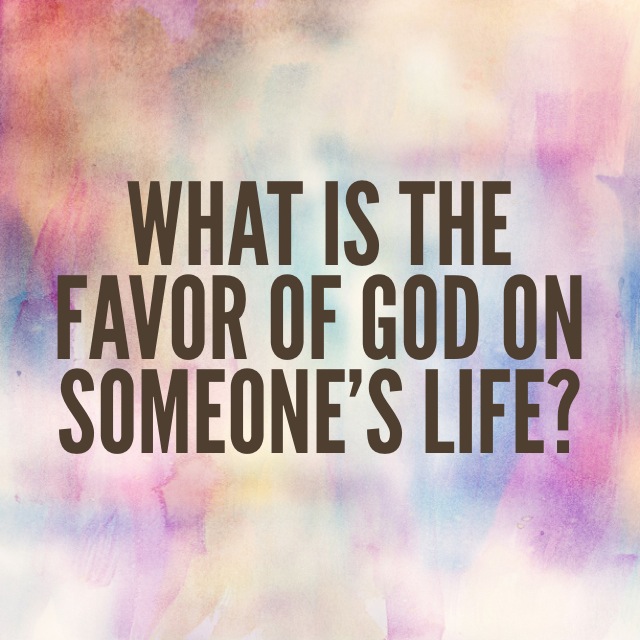 THE FAVOR OF GOD….
EVERYONE wants the favor of God but very few people consider the responsibility.
NEVER EVER forget if God puts unusual favor on your life IT'S NOT ABOUT YOU, it's so He can accomplish something in the earth. If you aren't willing to DIE to your vision so God can use you for HIS, I don't suggest you ask for FAVOR upon your life. Living in God's favor is an honor, a blessing and a very amazing thing to have such intimacy with the Father that we get to share in His plans, His heart and His vision. But it might cost you friendships, comfort and relationships that are very dear to you. Ironically, it will also press you INTO the best friendships, safety and relationships you could EVER imagine.
The bottom line is: THE CENTER OF GOD's WILL is the safest place on the planet!!
It's not about God loving someone more or accepting one person more. It's about an assignment that God places on an individual's life so that all may benefit. Is it for all? It's for whosoever The Lord wishes to position in a place or assignment so that His will can go forward. I believe IT IS for everyone but everyone isn't obedient, willing or able.
Sadly most seek favor for a fat bank account and special "favors" from God which is based on a soulish agenda NOT so that He can do a work in the world. Favor = a special grace and while it's a HEAVY burden and comes with a HIGH cost those who will enter in will find Him and rest for the task.
Favor is something that very few in our generation understand and fewer still teach on. It oftentimes comes with death to all we aspired to be and do and yet, God lures us in with all we are dreaming and aspiring to do. Far too many people seek to "figure God out" and always want to know what He's doing and what does He want me to do!! When the place we find favor and the assignment God has for us is in deep relationship with Him, NOT by seeking favor.
We can pray for the favor of The Lord in in our days but our focus isn't His favor. Our heart is turned toward Him. We walk IN favor but we don't aspire to be some arrogant obnoxious breed with this favor. Actually humility is the path to promotion. Responsibility is the path to authority. Obedience is the stairway to honor. All for Him.
With love,
Sandi Krakowski