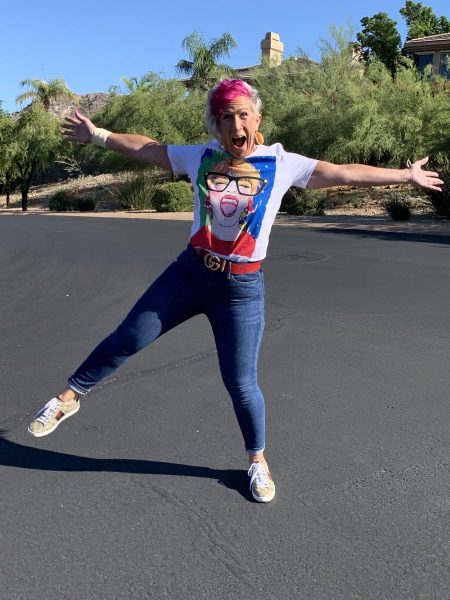 "Sandi Krakowski's Millionaire Social Media Bundle Special" RIDICULOUS $1000+ SAVINGS!!!
In this bundle you'll receive the following full length classes:
Social Media Masters ($497 value)
Write sales copy that causes people to buy quickly through social media.
How to create a BIG IDEA with picture graphics, quotes, text posts and more on a social media page and then 'marry' that to a well crafted email.
Create advertising campaigns that people are compelled to click through.
Know what a good ROI is and what needs to change to get higher conversions.
Learn 3 powerful words you can insert immediately into your content on Facebook, Twitter, InstaGram or Pinterest that will automatically have people sharing, commenting and liking your content every single time.
How to create content in less than 1 hour per week.
Connect with the top influencers in your niche without ever feeling pushy.
Stay fresh and connected while you run your business because you know what you're doing is working.
Know what a good ROI is and what needs to change to get higher conversions.
… and MORE!
SOHO: Small Office Home Office Social Media Apprentice ($447 value)
 Basics & Setups of Social Media
 Connecting Channels
 Bio Writing
 Page vs Personal Profile
 Metrics & ROI
 Lifetime value of a customer
 How to properly use live & scheduled content
 Timelines for massive growth
 The 3- Keys To 5000 Fans In 90 Days on Facebook
 Learn insights and strategies for growing your Facebook Page to the most engaged community possible. Learn how to manage your page, lead a group of people, when to do promotions and when not to. Copywriting secrets and more!
 Phones, DMs & Email- How to maximize profits while cutting your hours in half
 Keys to managing a LARGE Facebook Community from the beginning
Metric tools, reading your analytics and learning as you grow
How to set up a promotion, a special offer and even a contest that converts
 Marketing your membership program for BIGGER PROFITS
 Twitter And Highly Engaged Buyers
 Twitter Ads
 Twitter Verified Accounts Twitter promoted Post
 MEMBERSHIP PROGRAMS: The Do's and Dont's of using Facebook and Twitter with Memberships
How to gain more followers, close more sales and use PRIVATE Membership groups for the highest level of retention
Twitter Party Do's and Dont's
Using Twitter in a different way for all cultures
 Video Marketing & Lead Generation
 Learn how Sandi generated over 31,000 leads herself with a video and a blog page and how she went onto generate over 1 MILLION 'hot clients' on her current list in the last 3 years!
Video Marketing ! NEW RULES you must learn for Mobile Viewers
Special Guest Appearance from Jeremy Krakowski
 The follow up process- HOW to write auto-responders that convert
Building a BIG newsletter to reach everyone and stay connected
InstaGram Profits
Going BEYOND just pictures and personal updates on InstaGram
InstaGram for business- Large or Small Business strategies that CONVERT on InstaGram
Keeping it all under ONE LID: Why you don't want more than 1 InstaGram profile
Launching New Products
AutoShip Magic & Increased Sales- How to create recurring, repeat orders that come in month after month without any work on your part
Repeat orders- How to get them, keep them and INCREASE THEM!
Managing Your Social Media Portals and when to hire help
Top HIRING Tips- When to hire your first VA & What to look for
SECURITY on your social media profiles
Scheduling
Copy reviews by Sandi
Using Apps on social media
Facebook groups for paid memberships
Social Media Business Bootcamp $97 value)
Increase your followers in minutes with my 'instant engagement' secrets!
Get people to comment on every post you do on your Facebook page!
How to create engagement on your page with just 30 minutes per day
The reasons why content is more important than your offer
What content creates the most engagement and why.
Quickly and easily create social media graphics for new content every day
Create video that go viral and get shared worldwide
Save yourself hundreds of hours by scheduling posts across multiple social media platforms
The best times to post on social media
How to simplify everything without having to outsource to multiple people
Building a snowball effect of engagement on your page
The exact methods we used to have more engagement on our social media pages than Coca-Cola & Starbucks
What images to use for your social media graphics.
What words work best on social media graphics.
How to create videos without no experience in creating videos that have motion graphics and words.
How to use social media stats to know in minutes what content to create next
Take the guesswork out of building engagement and put it on autopilot
When to talk about your product and service and why
Proven engagement strategies that you can apply TODAY in your business!
HOW to soar to the top and close more sales while you sleep, even if you've never been able to close a sale before on social media

Facebook Ads 1- how to write ads that people respond to and make money with less than $10 per day in spending
If you have $10 per day to spend on Facebook ads, I can teach you how to :
Increase your click thrus to over 3.7%
Attract better customers
Spy on someone else's page and know exactly what to write to their customers
Write ads that get approved in less than 5 minutes on Facebook
Direct people from a Facebook ad to your blog and close a sale, instantly
Use the "post page engagement" feature in the Facebook ad manager properly
Create better "like" ads on Facebook with free photos
Write just 5 words on your Facebook ad and double your conversion
Ask the right questions in your sales copy on your ad
Create a KILLER CTA: Call To Action that everyone will click thru
Design the best timeline header image so your ads convert quickly
Avoid wasting money on Facebook with fake likes
Manage campaigns and ads so that you can see reports more quickly
Read your insights on your page and create ads to sell more products quickly
Use Facebook's Power Editor to target agency ads that billion dollar brands use
AND MORE! ALL NEW CONTENT!
Facebook Ads 2- full overview of how to get greater reach, engagement and conversions
The Facebook Ad Manager & Algorithm Changes -We'll start our training out with all of the algorithm changes, why Facebook is demanding a relevancy score and how to get your high quality content in front of your own followers without paying a dime. We'll also learn how to use the new ad manager and how the 'post engagement' feature that just recently came back is your dream. There's a 'secret strategy' to using $10 per day ads that no one is teaching but that can make YOU a ton of money. This one tip is worth the entire event itself!
Power Editor and how to get onto mobile ads and 3-party platforms without paying more than $5-10! The Power Editor can be completely overwhelming for many people, but buried deep inside this treasure box of tools is what YOU need to dominate your niche without your competitors ever finding out what you're doing. The best thing is, you can reach more people with less money with some of the tools the Power Editor offers. Just a few simple strategies and anyone can use this power house of a tool that historically has only been used by ad agencies!
Dark Posts & Data Mining For Micro Niches– This training has never been done before and is a really cool strategy that Facebook approves of where you can mine your way through their insights and find the best micro niche to target. The best thing is, you can do as many posts, ads and more that you want and they won't show up on your page!  One quote graphic that we did as a dark post brought in thousands of new followers and new dollars! Dark posts are YOUR answer to finding that ideal client you long for who is logging into Facebook every single day. Do NOT miss this session! It will be breakthrough for so many people!
Videos and Video Ads- that will bring in thousands of new followers with a long tail reach that every marketer has been dreaming of! How to do video ads that everyone will share without showing your face. WHY some videos go viral and others are a dead weight and how to make sure you create the best content for your niche. You're going to LOVE this session!
Remarketing Ads On Google & Facebook- Remarketing Ads work best when combined with Facebook Ads. When people visit your website, through your Facebook Ads, it creates a list that you can then send traffic back to those people. If they didn't purchase from you the first time, you are able to remind them of what they just looked at on your website. This method produces a 1000% return on almost every $ spent on advertising, when done properly! And it also work for banner ads on Google! Jeremy Krakowski will show you exactly how this is all set up and how to strategize best for this, as well as a live Q&A
Facebook Ads 3- micro niche targeting, videos, ads, copy and more
Here's just a sample of what is taught in this class:
Why this ad (example)got 609% more conversions than this
Why this ad (example) has 2100% more reach
Why an ad creates haters
Words to NEVER use on Facebook
Words that trigger psychological response to buy
Best opt in how to's
What to avoid with opt ins
Never ever use these photos
Colors that increase conversion
Colors that kill an ad 
Best crazy ad with high results and more!
How to use video to get a crazy amount of sales!
How to create video dark posts!
1- Payment $77 ($1238 value!)
2- Payments $39 ($1238 value!)