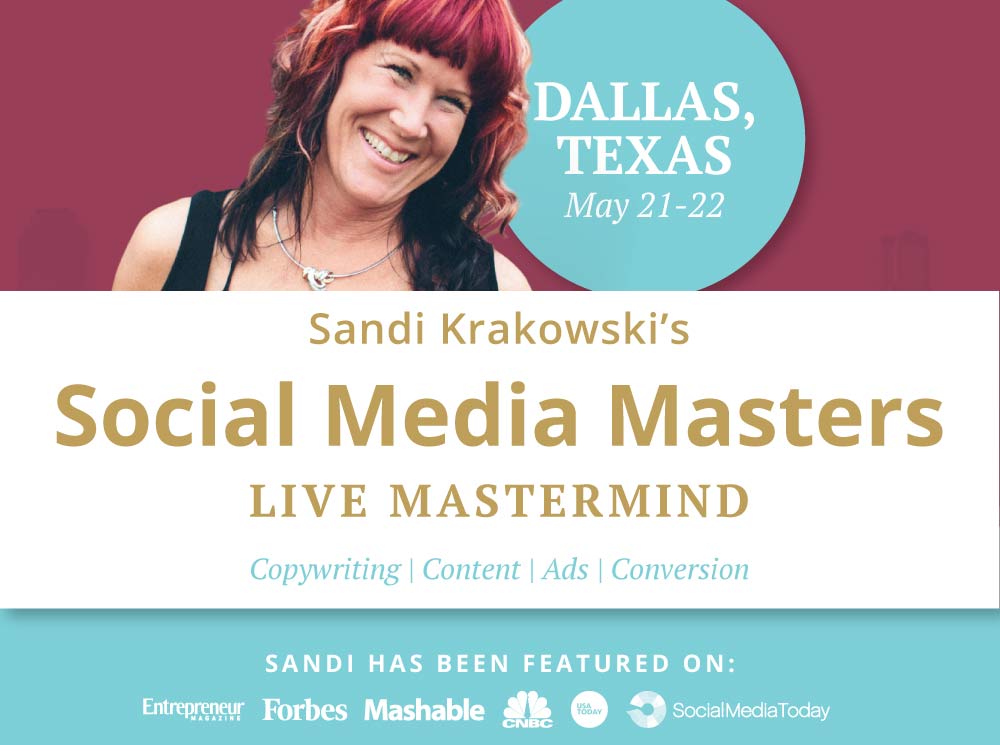 One Day Only  "LIVE!" in Kansas City with millionaire business expert, Sandi Krakowski & over 100 other serious entrepreneurs!  DO NOT Miss it!
One of the things we really wanted to do this year was work closer in a more intimate setting with a select group of Inner Circle members, here in Kansas City!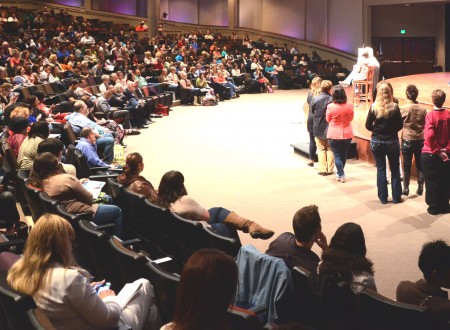 It's been amazing to work alongside you in the Inner Circle Coaching Mastermind program every month.
However, when we are able to get together a group of like minded individuals working towards their business and success together – something amazing happens when it comes to breakthrough that can't be duplicated online or virtually.
In our VIP coaching masterminds, the best 7-figure business plans come from the live masterminding events in we've held person!
We want that level of masterminding to happen for you in the Inner Circle!
2016 is YOUR YEAR to propel forward to what you've always wanted in your business – and your life – because they aren't separate from each other!
Sandi has been exactly where you are in business … 
Do you dream at night of no longer struggling with your bills, trying to figure out how you'll get through to the other side and finally come out profitable? Are you struggling to figure out what you should market?
Or what kind of business could TRULY become something that you, 18 years from now, could not only be proud of, but you could use to change the lives of others?
We want to personally impact the future of 200 families. It is our desire to help 1these business owners generate their first $25,000 in business profits in 2016 – and it starts NOW, with YOU!
Let's look at Sandi's track record:
She made her first million dollars in under 2 years of working for her self. The company she currently runs and manages is 6 years old, and is now a $20 million dollar empire! But did you know that it was in the 7-figure mark in under 7 months?!
It would be our honor to help you to create something you can be proud of and that will last.
Are you SERIOUS about changing your life forever?
What would you do with your life if you knew you could not fail?  What wouldn't you be doing? Ask yourself these questions!
Now what would happen being in a room with over 200 other people who are working towards there goals masterminding with you?
When you can build an online business that serves the RIGHT people and is driven by making a BIG change, wealth will follow you – your business will grow – and you can create the life you've always wanted for you and your family!
It would be an honor to help you to create something you can be proud of and that will last in 2016!
Will You Join Us? We can't wait to work with you!
Recently, however, Facebook made the biggest algorithm, quality-content changes they've ever made. Now we have things like relevancy scores, the ability to hide posts and more that if you don't know what you're doing can ruin your efforts in seconds!
In this 5 part on-demand video academy where I'll show you what I've been learning during the last 8 weeks about these changes, we're going to talk about all the things no one else is using or talking about, but when properly implemented are a small business owners dream! Things like dark posts, lower click thru rates, how to micro-target a niche and more.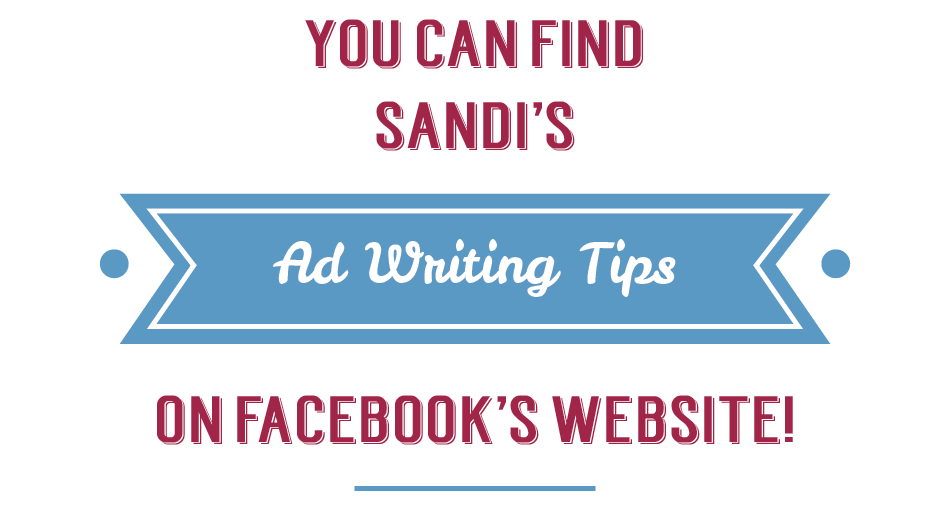 Here's what people are saying already:
Dave Rocker says: Wow! 1 simple ad and I've gained over 1000 likes in a week! …. time to engage i think. Thanks for the great advice sandi!
Jane Button says: I am still in catch up mode, but I did want to report some direct results I have had from promoted posts. I have been posting some of my blog posts and as a direct result I can attribute $32K in sales because people contacted me and wanted to work with me. Well worth the $160 or so dollars I spent. The promoted post brought them to my page, they read through it, watched a video and BAM! Now to get on with the rest of the course!
Daniel McCall says: I just started your Facebook Ads 2.0 class and After the first video started using your ideas for the past week sharing my yoga studio's vibrant culture. I also launched early registration for one of our core yoga trainings and filled over 1/3 of the capacity in just a few hours! This is a dramatic shift from the usual last-minute registrations we had in the past and we only used facebook and our website – no posters, flyers, or other things we've relied on previously. I'm so excited to see how sharing our powerful culture creates positive results in the business! Thank you!
Stephanie Miller says: If you are on the fence about this class then decide today to get off it. Especially if your business isn't where you want it to be. The first webinar and bonuses are worth more than the cost of admission.
Scott Hughes says: I can't say enough good things about the class, already have a like campaign going, been 12 hours and have 64 likes for 13 cents per like.
Beth Moseley says: Not only was it great information and very well presented, but I can totally see which businesses on facebook use these secrets and which do not! That's educational in itself to notice what others are doing! This is awesome!
Michael Faris says: Loved the class and i'm pumped for next week!!
Nancy Olliver says: Sandi, I have already made a few changes as you suggested , that weren't even what you were teaching on and have seen my engagement go up already. Now on to the ads. Can't wait for next week. Thanks!
Karen Hosey says: Oh my gosh, learned more in this one session than all the books I've read put together. GREAT class, Sandi. Can't wait for week 2!
Angela Herrington says: Once again you provided an amazing amount of info and way more value that what we paid for! Thanks Sandi and Jeremy and the ARC team for putting on this class smile emoticon
Michelle DeHart says: It (the class) was AMAZING!!! I have been struggling for months on how to get started and I feel like a weight has been lifted after one class! Sandi, I can't thank you enough!!

Saturday & Sunday, May 21-22, 2016

9:00AM – 5:00 PM Both Days

Hilton Anatole Dallas
2201 N Stemmons Fwy, Dallas, TX 75207

All sessions will be recorded for all attendees to access later & watch again and again!
Special VIP Opportunity:
Lunch with Sandi Krakowski

Front Row VIP Seating & Entry

1 Free Year of Inner Circle*

Personalized Video-Audit of Your Business Facebook Page


1-Hour VIP Call After The Event!
*For current Inner Circle Members, the free year time will go into effect 30 days after your last payment. No retroactive refunds will be offered. If you were grandfathered in at a special rate, you will still have access to that rate if you renew after the free year is over by writing client care.
1 Regular Attendee
1 Ticket Into The Event
Social Media Masters 12-Weeek On Demand Course
Recording of Entire Event
1 VIP Attendee
1 VIP Ticket to Event
Free Year of Inner Circle
Recording of Entire Event
Social Media Masters 12-Week On Demand Course
VIP Benefits (scroll up to view)

Sandi's 100% Personal Guarantee!
This comes with my *no-risk, 60 day unconditional money back guarantee*. I am so convinced that you will have results be satisfied with this event, I'm willing to take the risk of letting you attend the entire class, and then decide if it was for you. *There is NOTHING to lose!*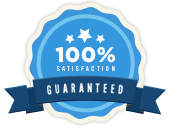 Legal Disclaimer: Every effort has been made to accurately represent our program and its potential. Any claims made of actual earnings or examples of actual results can be verified upon request. The testimonials and examples used are exceptional results, don't apply to the average attendee/purchaser and are not intended to represent or guarantee that anyone will achieve the same or similar results. Each individual's success depends on his or her background, dedication, desire, and motivation. As with any business endeavor, there is an inherent risk of loss of capital and there is no guarantee that you will earn any money.