If you've spent any time studying the stock market, you've probably heard of meme stocks.  Whether they're a good or bad thing … Well, that's a matter of perspective. 
One thing's for sure though, these stocks are making a big splash and getting everyone's attention. In fact — if you're a trader in 2021, it's a good idea to study them and understand what's going on. Like it or not, they're changing the trading game.
Also … Meme stocks can make really incredible price moves. If you know what you're doing, they can provide incredible opportunities for trading.
You've got to be prepared for them, though.
What Are Meme Stocks?
Meme stocks are stocks that see dramatic price moves that are mostly fueled by hype on social media …. Hence, the word meme.
These stocks usually don't have the fundamental reasons to support the price movement. Traders on Twitter and Reddit unite to pump the stock in an effort to cause an explosion in price.
The improvement of technology — and the ease of access to the stock market — has opened the door for traders to flood in and enable this strategy to work.
In our Stocks, Trading, & Crypto group, we try to keep an eye on meme stocks that are moving. Let's take a look at some that we're watching.
The Top 5 Meme Stocks That We're Watching
AMC Entertainment Holdings (NYSE: AMC)
AMC has been moving since late May, going from about $12 to over $70.
The world's largest movie theater chain had been struggling in the pandemic but that didn't stop traders from buying its stock.
In our group, we were saying that $14.50 was an important breakout point for the stock … And if it could push through that resistance, the stock price could move big. We had no idea it would as high as it did, but it was sure fun to watch!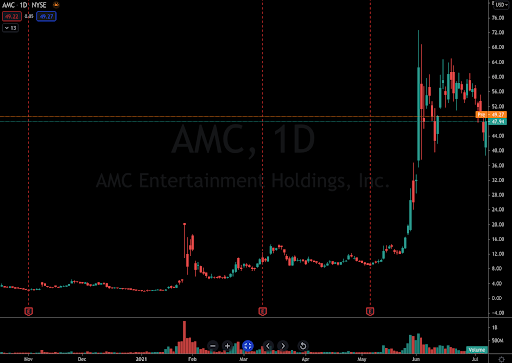 AMC Entertainment Holdings (NYSE: AMC) Daily chart (Source: TradingView)
GameStop (NYSE: GME)
GME was the one that started it all. 
The whole world watched as the stock of this failing gaming retail company exploded from sub $20 to almost $500! It was an incredible price move that no one had ever seen before … And got a lot of people interested in the stock market.
GME has lost most of its gains but — as of this writing — is still holding close to the $200 mark. A lot of traders are paying attention to this stock, so we're still watching it.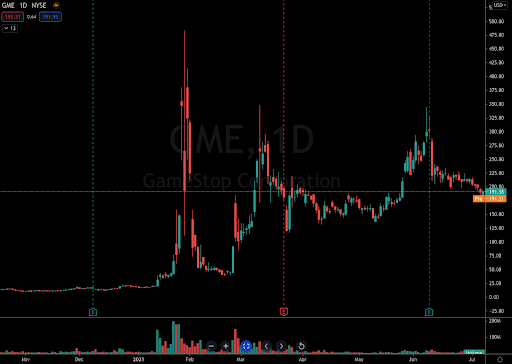 GameStop (NYSE: GME) Daily chart (Source: TradingView)
Wendy's Company (NASDAQ: WEN)
Wendy's is a popular fast-food chain … But its stock hasn't been the most desirable.
Just like other meme stocks, though — that doesn't keep it from being a target for meme traders.
WEN made a recent move to almost $30 which is an all-time high for the stock. Although it's come back down, it's still above $20.
I don't know if it will get moving again … But we'll be watching.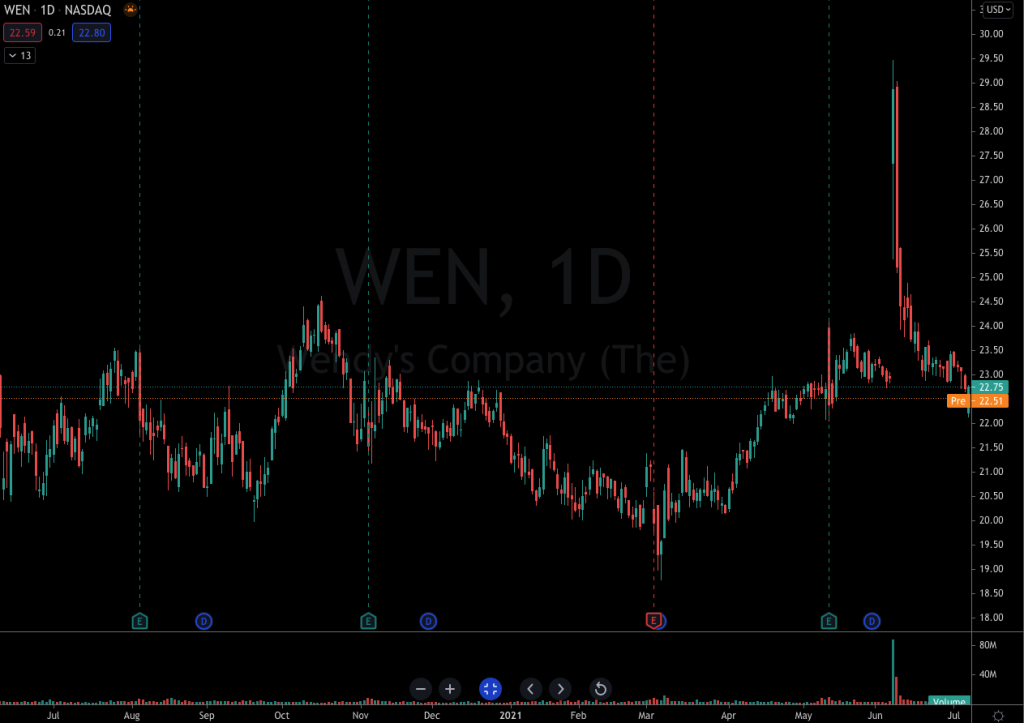 Wendy's Company (NASDAQ: WEN) Daily chart (Source: TradingView)
Blackberry (NYSE: BB)
Blackberry was super popular in the early 2000s for its cellphone products. People were addicted to them and even nicknamed their phones, "crackberries." 
As you can imagine, the release of the iPhone took that popularity away … And drove them out of the business.
Nowadays Blackberry doesn't make phones anymore. Instead, they focus on artificial intelligence and cybersecurity. They even have a chip that could be important for the autonomous driving sector.
Because of their new focus and products, BB could be a long-term hold investment candidate … But the stock has also been a target of meme traders. In May, it went from about $8.50 to over $20.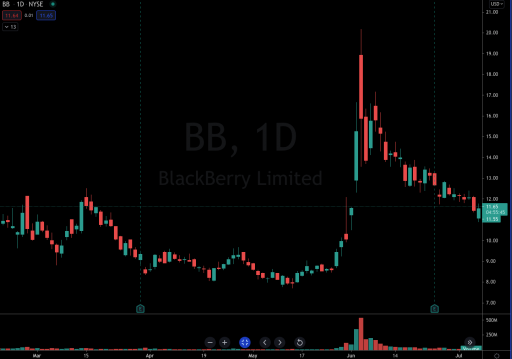 Blackberry (NYSE: BB) Daily chart (Source: TradingView)
ContextLogic (NASDAQ: WISH)
WISH is a fairly new stock. The company went public in December of last year.
The e-commerce platform company became a target of meme traders last month and the stock went from about $7.70 to about $15.
It's still a fresh target so we'll be watching for volume and volatility.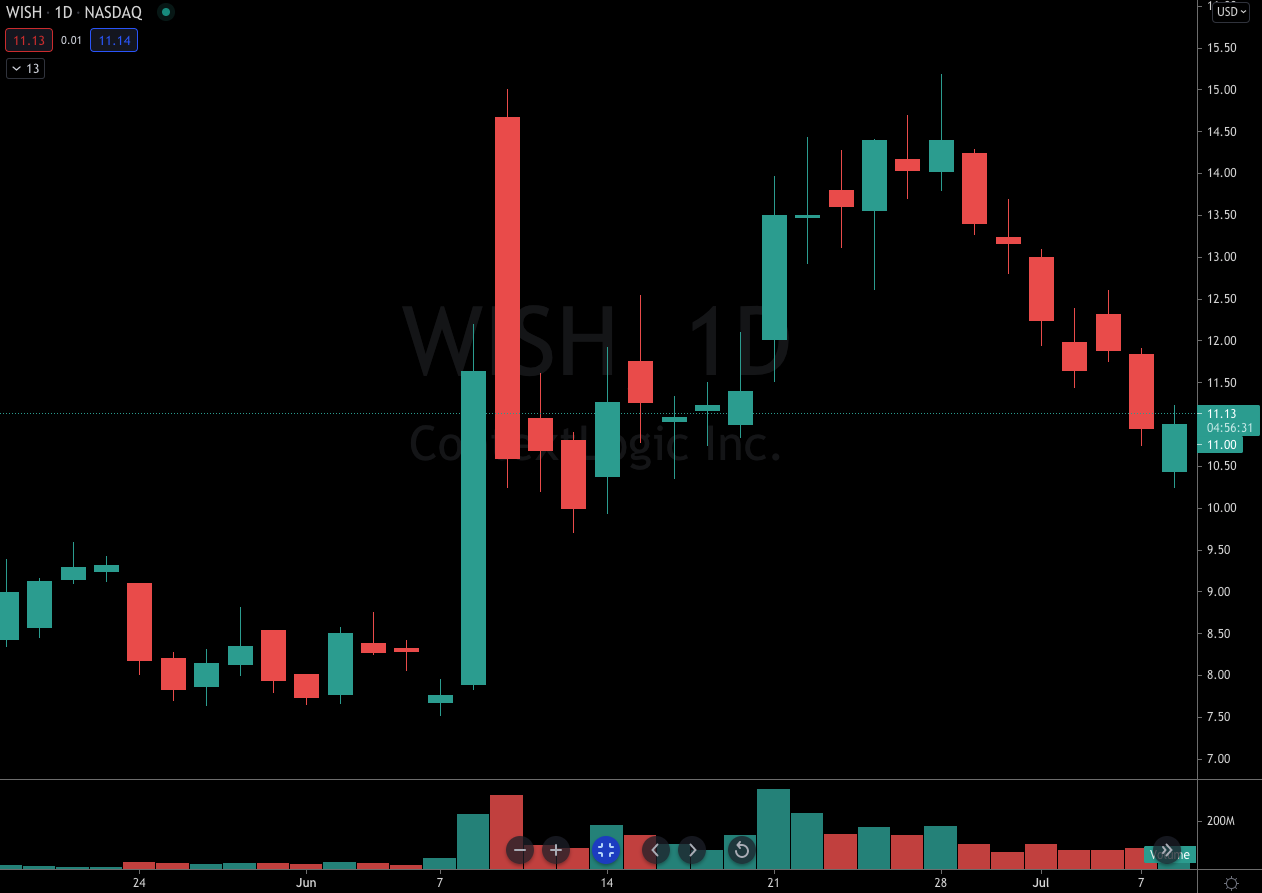 ContextLogic (NASDAQ: WISH) Daily chart (Source: TradingView)
Conclusion
There you have it! The top 5 meme stocks we're watching.
This isn't an exhaustive list. Meme stock traders tend to be fickle and there's no telling where they'll set their focus on any given day … But these are some of the most popular examples that are worth keeping an eye on.
Whether you like trading meme stocks or not, this is a unique time in history and it's important to watch what's going on so that we can learn trends and patterns and improve our own trading game.
Do you want to become a better trader? Come join our Stocks, Trading & Crypto group. We meet every morning at the trading bell so that everyone can learn faster and more effectively. We'd love to have you join us!
Are there other meme stocks that you've watched? Tell me about it in the comments below!