Going into birthday #56 like 😎 ... See MoreSee Less
This hair color looks amazing on you! You truly are aging backwards! ❤️
Happy Birthday Sandi, 🎂🎈I pray you have a Blessed and Peaceful Evening. You're are such an Inspiration to many, continue to be you, and shine like the Child of God that YOU are!!!♥️
HAPPY BIRTHDAY BEAUTIFUL SISTER. IM 56 AND YOU ARE COMPLETELY ROCKING IT!!!
Happy Birthday lady! I'm not far behind.
Sandi, hoping you have the most amazing day. May it be the first of many amazing days ahead. These past few years have been so foundational for you. It is a true blessing watching you walk into your destiny. Classy Lady! Spirit filled Woman! Ordained Woman! It may feel like you walk alone at times but I promise you this. The bravery that you have presented before us has touched millions of souls. March on, Dear One. March on. You are not alone, ever. Wishing you a very Happy Happy Birthday❣️🙌
happy birthday Sandi. may this year be the year of love for you xx
Happy Birthday! I'm right behind you. 56 in August! You look great! 👍😊❤
Love the new hair color.... looks good on you 👍🏿👍🏿
Looks pretty! Happy Birthday👏🎼
You are beautiful so proud of you, and happy for you I live in pain everyday and tried and tried to get off pills haven't had one in a month but it's be bad and I go Monday for my medical marijuana card my dr told me he thinks that will help me cuz he said with all that's wrong w/ me I need to be on pain meds but I want off them so I'm doin this please pray for me that this works! I love you, you love amazing
I LOVE the platinum. Holy heck woman. Gorgeous!! We are birthday twinsies. 3/4!!
Happy birthday beauty! Thank you for sharing your anointing ! By the way, the platinum hair ROCKS!!
Your rockin it, Happy Birthday sweet lady!!!!!💕
Happy Birthday sandy you look great.
You look great.. what a wonderful inspiration you are. Happy Birthday!!
Happy birthday! Thanks for who you are and all your blessings.
Happy birthday my friend! You look fabulous!
Happy Birthday. I turned 56 last month. Life is good.
Happy birthday I will also turn 56 this year (April) but don't look as good as you working on it. Lost over 40lbs last year still have a lot to go but did make cancer surgery go well losing that weight got new insurance that has gym membership included so looking for the right gym to do swimming for my cardio and start with weight training to get the rest of the extra weight off
Wishing u an amazing bday celebration
Happy birthday, your fabulousness! 💕
You look fantastic! You are an inspiration both with your beauty and your light filled spirit. Have a Blessed Day !!
Looking "smokin hot" ( my hubby and sons say) and totally FABULOUS !! Happy birthday 🎂 to you!!!
Lovely picture! Happy birthday!
Happy birthday, I love you, you are so inspirational but more than that you are just real!!!
Load more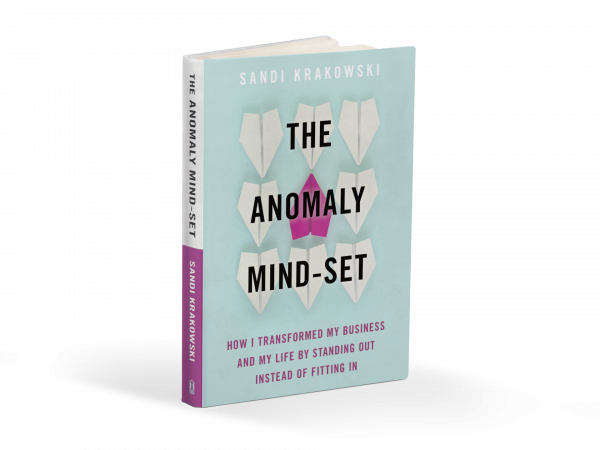 The Anomaly Mind-Set
by Sandi Krakowski
ANOMALY MIND-SET is for the entrepreneur, parent, artist, and anyone who won't settle for less in life, who want a BETTER way to find their purpose and what they were made for.
#AnomalyMindSet
Order Price $16.50 PLUS NEW RELEASE BONUS!