Ready, set, GO!!! 3 things! Gratitude is miracle grow for your dreams! ... See MoreSee Less
The love and guidance of my lord and savior,my church, family and friends, that I still have my parents, That my son is successful doing what he loves ( Air Force) and happy. 🙏❤
I'm grateful for your encouragement. I look forward to what you post every day! I'm grateful for my family— they are the best! I'm grateful for Papa God who is pouring out blessings upon me!
I am thankful for my life, my wonderful family and being able to enjoy each morning. I struggled with chemo earlier this year. It was over in June and I am feeling better each day. I am so thankful for my strength in relying on Jehovah God our wonderful creator.
#1: the relationship I have with my kids #2: the wisdom the Holy Spirit gives me each morning in raising them #3: the abundance He flows to us each moment of every day. Thankful for this life! It is amazing and one hell of a ride!!
My children being safe and home with me. The job and ability to work and pay my bills. Being debt free and cash flowing Christmas with all of January bills paid!!!
Being able to take my daughter to see her former classmates in their band performance tonight. This is her first year of online charter school, so she misses her friends. Freedom to make decisions that are best for my family. Warm fuzzy blankets. A bed to sleep in. Good night!
Getting to know Jesus, My family and friends, For all my blessings from God in my life, he has blessed me more then I deserve! 🙏
I am grateful for my job and the lifestyle it affords us. I am grateful for the opportunity to make a wish on property which will provide financial security into the future. Thank you, thank you, thank you.
I know this is more than 3 things but I'm grateful for everything! God is amazing!
Gods presence in my life, my children, life itself. As hard as things are I live in hope that God uses it all for my best 🙏🏼🙌🏼 can't be grateful enough to Him, for that and all He has blessed me with
I'm Grateful for God's Grace , Mercy, and Forgiveness when I fall short (everyday), that as a single Mother I have health, transportation and a home for my children and I , and the ability to learn and grow to change my circumstances for the better.
Getting up, my ex's are my ex's ( Thank you Lord for that removal and protection) and the doors that are opening with Keller William's reality
I'm grateful for a husband that adores me and comes to my rescue on the daily, my 3 beautiful handsome boys that think I'm perfect, (boy are they wrong)well maybe not the 14 year old... but hey it's a teenage boy thing 🙄😜 and for God's Grace and redemption. Looking for all the doors to open and my next blessing! God is ever faithful!
I am thankful for hot water and cold water to temper it, for time away to refocus.
My salvation. My daughter, and that the materialistic side of this season is almost over! Thankful for a Risen Savior that loves me at my worst.
That my house is paid for, I have an amazing church family, that God always provides
Returning to work from 3 weeks off following surgery. Successful surgery. My loved ones and my co- workers who all have shown me such grace.
Reconciliation with my dad and children, a loving church family and Gods extravagant love toward us
Extra last minute orders! No load shedding today. Knowing that God has our backs... Always! I am truly grateful that we can go and spend time with our beloved daughters and our precious Grand children.
Roof over head waking up in morning and have the opportunity for door opened to me that no man can shut
Greatful for our creator that he gives us grace:) Greatful for my family and friends God has placed in my life. Greatful for good health and cancer free for 20 years! Last but not least my husband who is a constant in my life. Greatful for a non-stressful work environment!! God has positioned me to grow here!! Whoop whoop!
I am thankful for love and support even in times of adversity, I am thankful that I have been having a first pregnancy and she is developing healthy, and I am thankful for our new family puppy , may she live out her days with us as one happy unit.Amen.
Struggling with school,given extensions to live another day and finish this course,that even though there are numerous struggles,I'm still blessed. Some Amazing friends.
I was woke up to enjoy another day , I have 4 wonderful children , and my kitty cats
I'm grateful that I woke up this morning in my warm bed able to walk my old dog Milo I'm grateful for the job I go to that pays my bills every day and I'm grateful my parents are here from New Mexico and that I have an opportunity to spend time with them
Load more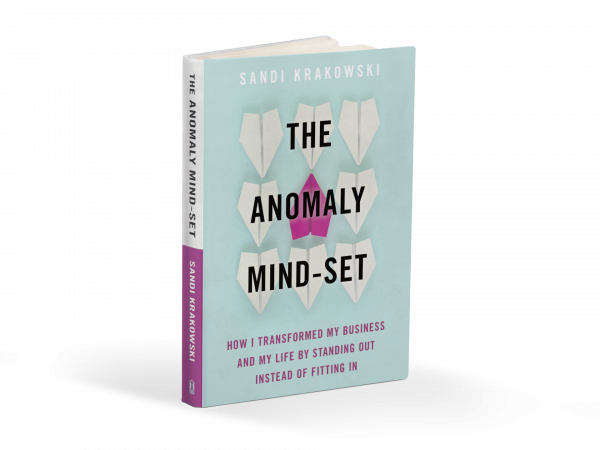 The Anomaly Mind-Set
by Sandi Krakowski
ANOMALY MIND-SET is for the entrepreneur, parent, artist, and anyone who won't settle for less in life, who want a BETTER way to find their purpose and what they were made for.
#AnomalyMindSet
Order Price $16.50 PLUS NEW RELEASE BONUS!