In the digital world, the internet and instant communication it is VERY important to understand where your MAIN FOCUS should be in all of your marketing, advertising, branding and copywriting. This ONE FOCUS should reach and influence the most people who can and will respond. Do you know what this focus should be? Should you FOCUS on all the ways that your product or service solve a big problem? Many amateur marketers, advertisers, branding so-called specialists and
[...]
Sun, May 12, 2019
Blog
Some of the hardest decisions you'll ever make will heal your soul. It doesn't mean you didn't love them. It doesn't mean that you didn't love everything you experienced. But sometimes the person that you love is not the person you're meant to be with. Sometimes the job that you've given yourself to with all of your heart is not the one that God has for you. Sometimes the home, the neighborhood, the state, the house, the friend, the goal....The very thing that you've been chasing for years that you thought would be THE answer to all of your prayers might be the very thing you have to walk away from SO THAT your whole soul can open up to a life your prayers weren't even ready for yet. #anomalymindset ... See MoreSee Less
Transformational living! It hurts but feels so good after the healing and sets us on the path of wholeness living the mind of Christ
Wow wow wow this just spoke volumes to me!! As I press through the struggle of leaving things behind & moving forward into the unknown with God to the new things He has for me I am grateful for your inspiring & encouraging words! Thank you & bless you🌹
Amen to all of it. Surrender is the key, but so hard to do. Thanks. You always speak to my soul.💖
So many times when I read your posts I feel like I'm having coffee with a dear friend and you are taking directly to me. This post this morning was proof of that. God speaks through you and I'm grateful you listen to His words and share with others. ❤️
Amem !! I love that very true !!
I made the hardest decision of my life almost a year ago to leave a marriage of 20 years that I raised 3 stepchildren and a grandchild. I was never appreciated and realized finally my husband was a narcissist. A few months ago the love of my life who never could commit 24 years earlier reached out and we are now getting married.
So my morning starting off good but tears are starting to flow for no reason holy spirit why are you bringing tears of overflow and my heart is feeling heavy .what ever your will lord i will do in jesus name Amen
🙌🏼🙌🏼🙌🏼🙌🏼🙌🏼🙌🏼🙌🏼 amen so true!
Amen 🙌. Thank You Jesus 🙏 🙌👍🏽♥️
After watching yesterday's video that was so anointed and so you , so we may differ in what words we use but you're speaking to people outside the 4 walls and they need to see real people , loving God and willing to love them and seeing your post today I must say... The Sandi that I started following a few years ago to help me grow our online business is back ... I love your fire and that you once again are flowing in your gifts and talents and using the word of God again to speak life ... peoples view points my differ on certain matters BUT all that matters is the truth .. You have a very rare gift and I'm glad your using your them once again .. and your hair is really cute too ..
Have a special request of you. Time is short in these last days and much to be done to expand the kingdom of God. Is there anyway if felt spirit led u would be willing to step up and help Billy Graham's cousin Terry Roberson set up and establish a facility in North Corolina. Any contribution toward this 5 million dollar project would be greatly appreciated as it will establish and enlarge the territory of God's work at hand for the urgency of reaching desparate lost hurting and broken souls. May the Lord impress upon u such urgency. Respectfully ur sister in Christ Sally Jackson God bless u beyond all imagination. U really truly are an inspiration
This just touches my heart💜 A dear friend who is going thru so much pain comes to my mind. I pray for him always😢
This is so true. Experiencing this in my life right now 💜
Walked from a long term job and marriage because they both were hurting my heart. Happily remarried now and LOVE my job (at 56 yrs old). Be courageous enough to listen to your pain and make a major shift.
Phew! This Summer has taught me this beyond measure. Thank you for the reassurance 🙌🏽❤
Wow!! This is spot on...I was just offered a new job and put our house up for sale. I was staying in my comfort zone but knew it was time for a change. It's been a super hard scary decision but believe me Prayer works....lots of Prayer 😉
Thank you Sandi for your encouraging words !! You always open my soul God Bless you 💖
Omgoodness this post needs a party!!!! This is so incredibly TRUE!!!
My soul needs healing .... Good morning Queen.. Blessings
Amen! Same here with relationship. I left 3 times already. Why did I go back over and over?! Again stressful and no support. Angry person. I'm ready to move !! And heal my soul!! 😍. The Holy Spirit petition for me the courage. ❤️❤️❤️
Going through this right now. Broken marriage and a very nasty soon to be x husband. I have been beaten physical, mentally, emotionally,psychologically and now financially by this man that I loved with all my being, but he changed into a person I no longer love. Thank you Sandi for all your encouragement and love for your followers, it truly gets me through my day! ❤ God bless you and I am so thankful God has brought you into my life.
My wife of 24 yrs walked out on me and our three girls for who knows why, and my business that I've poured blood sweat and tears into just went belly up, all this in a space of 30 days!!! I've been praying and praying for a answer but so far the heavens are silent. I am so confused and hurt. I'm open to Gods change but I'm receiving no direction at present.thanks for your prayers.
I receive this Lore!!! Let your will be done in my life !!!!
Load more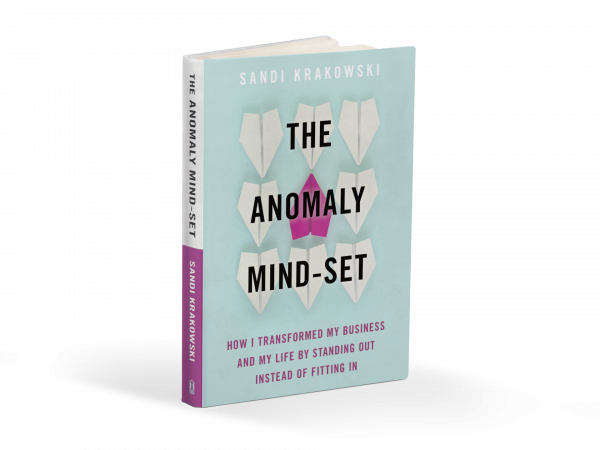 The Anomaly Mind-Set
by Sandi Krakowski
ANOMALY MIND-SET is for the entrepreneur, parent, artist, and anyone who won't settle for less in life, who want a BETTER way to find their purpose and what they were made for.
#AnomalyMindSet
Order Price $16.50 PLUS NEW RELEASE BONUS!